Particle Shrine (2022)
"Through our eyes, the universe is perceiving itself. Through our ears, the universe is listening to its harmonies…" - Alan Watts
Particle Shrine is an immersive sound sculpture / installation that utilises unique technology to transmute live
cosmic ray
data into a range of kinetic, audio and visual outputs.
This includes spatial, generative 360 compositions, vibrating mirrors, detailed lighting design and projection.
Utilising 5 bespoke detectors, these outputs are controlled in
real time
by the energy of cosmic rays in the room and a live feed from Nobel prize-winning neutrino detector
Super Kamiokande
in Japan.
PRESS
NPR
'A scientist and a musician are collaborating to turn cosmic ray data into art'
Symmetry Particle Physics Magazine
'Feeling the Universe'
Promo Video
Full length explainer
Invisible messengers from deep in the universe surround us.
These messengers are known as cosmic rays, and billions shower Earth every second, in a random way currently beyond human comprehension.
These subatomic particles are passing through you at this very moment…blazing close to the speed of light, blasted from supernovae and other astrophysical phenomena far beyond our galaxy.
By learning about them, we can learn about our origins.
Particle Shrine makes these invisible forces,
visible.
Utilising new creative technologies, this installation transforms the never ending stream of cosmic ray energy into various outputs - generative 360 compositions, (powered by d&b's soundscape system) vibrating surfaces, projections and lighting design.
These outputs are controlled in real-time by 5 bespoke
cosmic ray
detectors inside the installation, as well as by live readings from a neutrino observatory in Japan called
Super Kamiokande
.
The result is an experience like no other.
It's an environment that's unique each time you step inside, a place where you could ponder these curious forces, and hopefully, experience a sense of connection to the cosmos in the process.
Commissioned by
Science Gallery London Past exhbitions
Science Gallery London: August 2022 - January 2023
SVA Brunel Goods Shed, Stroud: September 2023
Credits
Creative director, designer, producer, composer: Christo Squier
Creative technologist, designer: Chris Ball
Experimental particle physicist: Dr. Teppei Katori
Lighting designer: Eden Morrison
Ableton Live / Max for Live bespoke devices: Mark Towers, Bill Brooks
Soundscape install: Jack Page, Wayne Powell, d&b Audiotechnik
Videographer / editor: Matt Jolly
Fabrication: Sam Mills
Video animations: Peter Story
Photography: Matt Jolly, Jack Latimer, Rah Petherbridge
Gratitude
- Science Gallery London
- d&b audiotechnik
- King's College London, Department of Physics, Experimental Particle and Astroparticle Physics group
- King's Undergraduate Research Fellowships
- Britten Pears Arts
- Ableton
- Hackspace Manchester
- The Premises Studios
- Spencer Axani of CosmicWatch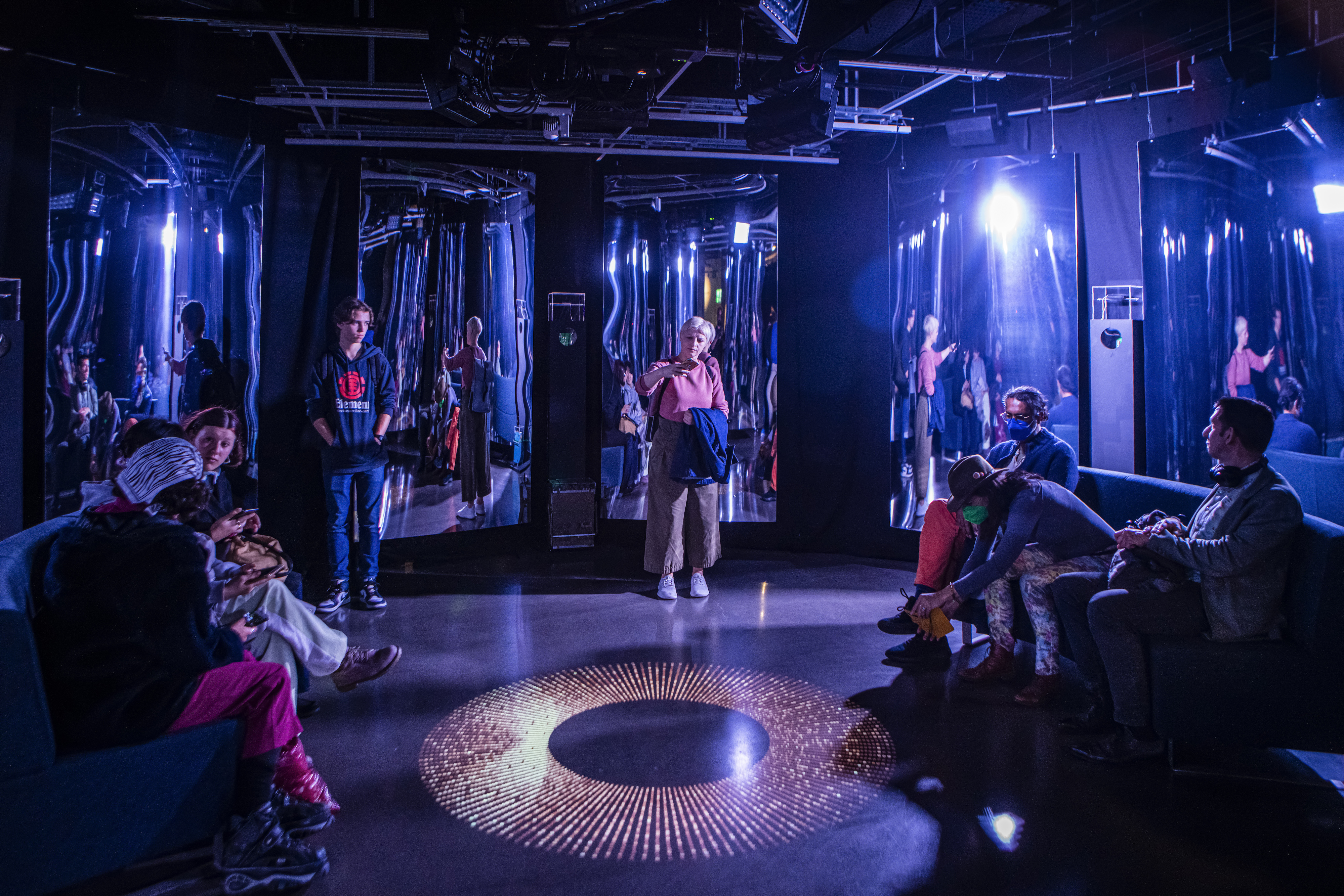 Alternative explainer video
System design in progress!