Subatomic (2021 -)
'By looking down,
I see upward.
By looking up,
I see downward' - Tycho Brahe
Cosmic rays are produced deep in the universe.

Millions shower Earth every second, in a random way currently beyond human comprehension.
Subatomic particles are passing through you at this very moment…blasted from supernovae and other astrophysical phenomena far beyond our galaxy.

This has happened throughout the history of the solar system.

By learning about them, we can learn about our origins.

Born out of a King's College London artist residency, composer Christo Squier and experimental particle physicist Dr. Teppei Katori are joined by a chamber orchestra to explore this fascinating subatomic world via composition, sonification, projection and performance.
Some pieces are built using pre-recorded scientific data as inspiration, others embrace entropy and improvisation by using local cosmic ray detectors, a live feed from Super-Kamiokande observatory in Japan and/or a live feed from the
Particle Shrine
installation.
Part experiment, part lecture, part suite of new music, Subatomic holds a curious musical lens over a hidden yet vital part of our world.
A duet, of sorts, between musicians and the cosmos.
Subatomic was developed during a
Britten Pears Arts artist residency
, and premiered as part of Festival of New. There were sell out performances at
Snape Maltings
concert hall (2021) and
Science Gallery London
(2022).
The project continues to develop; expect a live album and new iterations of the performance.
Concept developed by Christo Squier, Chris Ball and Dr. Teppei Katori
Composed, produced and directed by Christo Squier
Ensemble
Charly Jolly (bass clarinet, clarinet)
Christo Squier (guitar, tenor sax, flute, synths)
Fiona Fey (piano, voice)
Jin Theriault (baritone sax, alto sax, violin, alto flute)
Laura Hussey (viola)
Laurie Taylor (violin)
Lily Rayner (cello)
Riccardo Castellani (drums)
Dr. Teppei Katori (trombone)
Creative Team
Christo Squier (creative direction and production)
Chris Ball (creative coding, building and hacking devices)
Dr. Teppei Katori (science advisor)
Daniel Ross (visualisations)
Peter Story (projections)
Alex Ferguson (production)
Developed in partnership with King's College London Cultural Programme
in the faculty of Natural, Mathematical and Engineering Sciences.
Improvising in real-time with
Particle Shrine at Science Gallery London.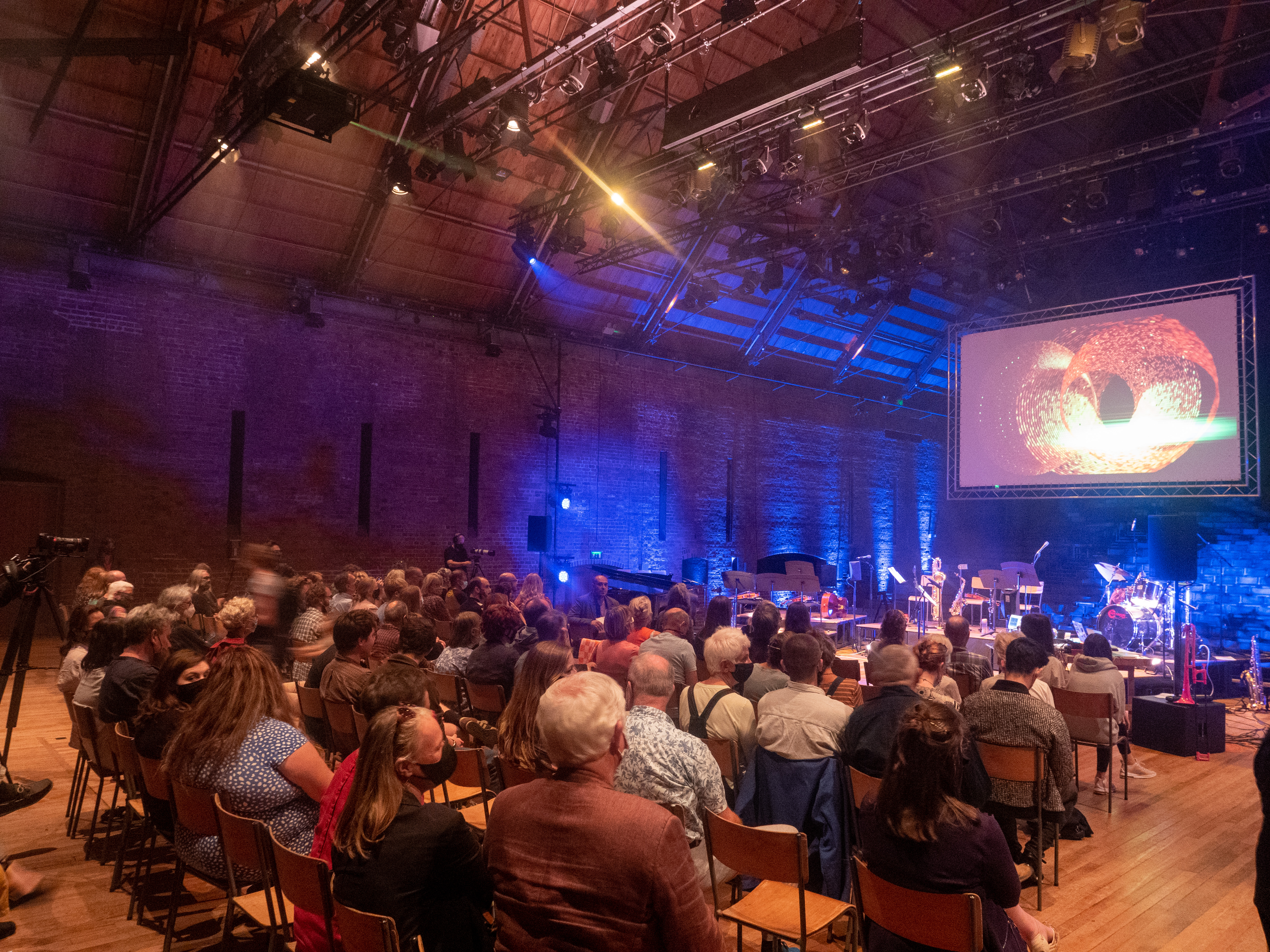 Full concert